PRIVATE PAGE 

(This page is for Recording Academy members only. If you have received this link and would like to opt-out, please reply back to the sender with a subject line opt-out.)
ONE LITTLE FINGER (Ability in Disability) | Best Music Video | A cast of over 80 children and adults with disabilities
Words by: Rupam Sarmah, Siedah Garrett | Performed by Kechi Okwuchi, Rupam Sarmah | Music by Rupam Sarmah
Music Directed and Produced by: Rupam Sarmah
Associate Producer: Kevin Mackie
Original Score: Stephen Melillo, Rupam Sarmah
Featuring Quincy Jones, Siedah Garrett, Kechi Okwuchi, Vishwa Mohan Bhatt, Julian Lennon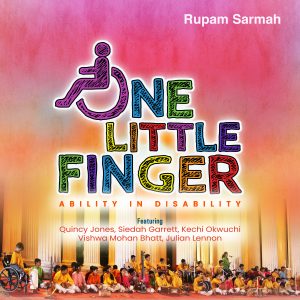 "One Little Finger makes a point to show that a person with a disability is also a person with many abilities. Through love, acceptance, and understanding, it provides a world without exclusion and judgment. When we reach out towards each other, we celebrate the gift of life." — Julian Lennon
www.OneLittleFinger.com UPC: 898367001-61-3
1. One Little Finger

 



Words by Rupam Sarmah and Siedah Garrett

 


Music by Rupam Sarmah

 


Composed and Arranged by Rupam Sarmah
Choral arrangement: Ruth Weber Choir
Performed by Rupam Sarmah and Kechi Okwuchi

 


ISRC: US-GUA-19-00101

One Little Finger (Title Song)

Music by Rupam Sarmah
Words by Rupam Sarmah, Siedah Garrett
Performed by Kechi Okwuchi, Rupam Sarmah

Choir and Instrumentalists

 


The Ruth Weber Singers, directed by Ruth Hertz Weber
Choral and string arrangements by Ruth Hertz Weber

Flute: Jonathan Sussman, Soloist: Emilia Lopez-Yañez, Oboe: Emilia Lopez-Yañez
Violins: Cathy Allen, Annelle Gregory, Ondrej Lewit,
Cellos: Kirsten Vogelsang Eyerman, Sophie Webber
Guitar, drums: Brian Sargent; Keyboard: Sanjay Hazarika
Flute: Pranjal Bora; Sitar: Subhas Bose

Sopranos
Kara Colling, Sarah Colling, Kay Guy, Jennifer Hawkins
Byung Kang, Emilia Lopez-Yañez, Jennifer Manzke
Emily McCaslin, Joy Pauley, Ellyanna Rasmussen, Barbara Welsh-Osga

Altos
Betsy de Bos, Leticia Micaela Gonzalez, Elisabeth Hartig Lentulo
Julie Lorson, Jennifer Rasmussen, Wendy Sweet, Anne Rice

Tenors
David Dollins, Caleb Hawkins, Tyler Hawkins
Bill Schwartz, Andrew Sweet, William Olzanicky

Basses
Brian Castle, Henrik Jonson, Paul Lorson, Matt Meis
Gabriel Rasmussen, Lars Rasmussen, Dirk Reschly
Albert Schafer, Simcha Silverstein, Brian Tillotson, Jon Wilder
Recorded at Studio West, San Diego, CA., Cedrick Courois, Engineer



Engineered, Mix and Designed by Anup Mukherjee, Amit Dutta, Rupam Sarmah, Siddheshwar Banerjee; 




Studio: maZumba, RJ Productions International; Music Room, CherryPix; Salami Studios, Hollywood; Little Big Room Studios, Burbank 




Additional song mix and mastering engineer: Brian Vibberts 




Surround 5.1 Mix by Amit Kr. Datta, Anup Mukherjee, Rupam Sarmah



MEDIA PARTNERS:

PRERONA Spastics Society, Monovikas Kendra, UNESCO Center for Peace,

 


IN THE MIRROR MUSIC, SALAMI STUDIOS Hollywood, ABERRANT SOUND, The White
Feather Foundation, LBR Music, Forest Nation, Brown Out Studios, Barn Castle, 
Enable India, maZumba Media, RJ International, Music Room, J. H. Sanderson Roadhouse
Productions

© 2019 RJ Productions International, USA & maZumba Media and Entertainment, India.
All Rights Reserved.
FEATURED ARTISTS PROFILE:
Rupam Sarmah is an award winning singer-songwriter, filmmaker, scientist and social activist who has earned international recognition for his creative work toward Peace and Human Rights through media initiatives. Rupam is a Guinness World Records® holder and #1 Billboard Artist in world music chart. Some of his notable projects include Together in Peace, In Search of God, Omkara, A Musical Journey for World Peace, Action Moves People United, Art of Healing, Freedom from Biases. Rupam's goal is to uplift consciousness in the world with creative work that delivers the message of Humanity, Peace and Love through Music. Dr. Rupam Sarmah's Artificial Intelligence research will give insights into human behaviors and possible early intervention in autism, mental health, and other diseases.
Quincy Jones is an American record producer, multi-instrumentalist, singer, and film producer. His career spans over 60 years in the entertainment industry with a record 80 Grammy Award nominations, 28 Grammys, and a Grammy Legend Award in 1992.
Siedah Garrett is an American singer and songwriter, who has written songs and performed for many recording artists in the music industry, such as Michael Jackson, Quincy Jones, Donna Summer, Madonna, Jennifer Hudson among others. Garrett has been nominated for two Academy Awards for Best Original Song, and won the Grammy Award for Best Song Written for Visual Media at the 50th Grammy Awards for co-writing "Love You I Do" (performed by Jennifer Hudson) for the 2006 musical film, Dreamgirls.
Kechi Okwuchi is a Nigerian-American singer and motivational speaker. She was one of the two survivors in the Sosoliso Airlines Flight 1145 crash on December 10, 2005 and a finalist at the twelfth season of America's Got Talent in 2017.
Vishwa Mohan Bhatt is one of India's most innovative musicians. The inventor of the Mohan Veena, a nineteen string modified archtop guitar with three melody strings, four drone strings and twelve sympathetic strings, Bhatt has created a sound that blends the western Hawaiian guitar with sitar, sarod and veena techniques. Bhatt is best known for his Grammy award winning album A Meeting by the River with Ry Cooder. He is also known for other fusion and pan-cultural collaborations with Western artists such as Taj Mahal, Béla Fleck and Jerry Douglas.
Julian Lennon is an English musician and photographer, son of The Beatles member John Lennon. He was the direct inspiration for three Beatles' songs: "Lucy in the Sky with Diamonds" (1967), "Hey Jude" (1968), and "Good Night" (1968). Lennon founded The White Feather Foundation in 2009. Its mission "embraces environmental and humanitarian issues and in conjunction with partners from around the world.
Kevin Mackie is a Grammy winning and twice Grammy Nominated Producer who is also a Songwriter and Musician. Since 1995, Kevin has been very active working with different charities, to help make this world a better place. Some of his notable projects are – All About Bullies – Big And Small (won a 54th Grammy Award),  Healthy Food For Thought Good Enough To Eat (53rd Grammy Nomination),  All About Following Your Dreams, Action Moves People United.