PRIVATE PAGE 

(This page is for Recording Academy members only. If you have received this link and would like to opt-out, please reply to the sender with a subject line opt-out. Thank you.)
ARISE TOGETHER 

– Promoting Inclusion, Peace, and Diversity
Creating a platform for  

Children of the World

| Bringing Children together through Music and Arts from Ukraine and around the world
•

Arise Together

(FYC:

Children's Album

) – Releasing on Sep 23
• Children of the World (FYC:

Global Performance

– Children from Ukraine & around the world)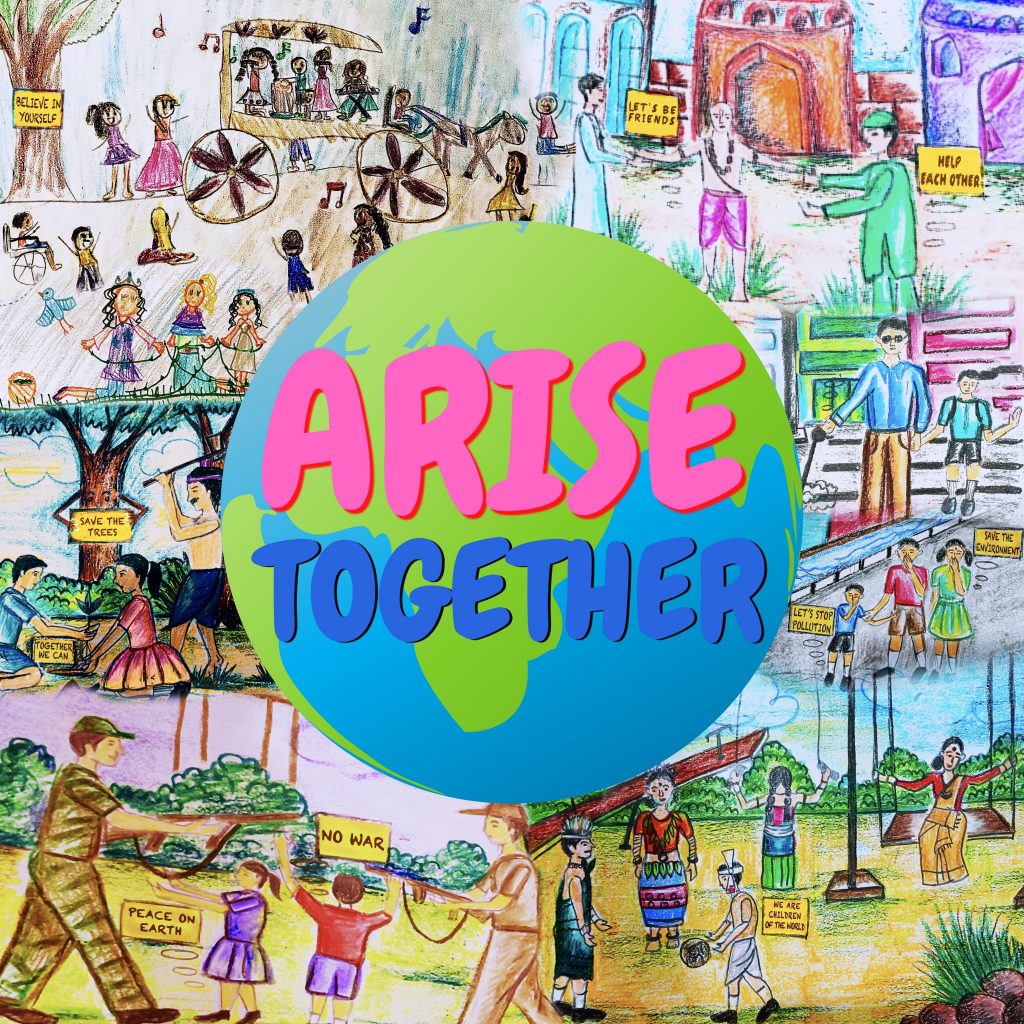 ARISE TOGETHER (Children's Music)
Children of the World (Rupam Sarmah, Ruth Weber Choir, Chernivtsi Music School Chorus (Ukraine), One Little Finger Group)
PLAY TRACKS

Arise Together – Promoting Peace, Inclusion, and Diversity!
 "We are all Children of the World!
  It's a fight to survive!
  With our hearts unfurled
  Together we will thrive!"
We all know what kids are going through during these challenging times, from war, violence, and inclusion to the environment! It's a fulfilling experience to give a little hope to all, promoting Peace in the footsteps of Gandhi, Mandela, and Martin Luther King Jr. It is needed now much more than ever before. We are trying to fill the lives of these children with hope, motivation, and the help they need amid the devastation. We thank many organizations and people who joined our hands to spread love through music. 
A Project of One Little Finger Global Foundation
Support our projects: Album available on Apple, Amazon, Google, and all other downloadable and streaming platforms (releasing on Sep 23)

CREDITS

Track Listing and Credits:
Album Title: Arise Together 
Producer(s): Rupam Sarmah, Kevin Mackie
Assistant Producer(s): Steve Elci, Brian Sargent

UPC#: 898367001682 
 
02. Children of the World 
Vocal: Rupam Sarmah
Songwriter/Composer: Rupam Sarmah
Female Solo: Rhea Sarmah, Emilia Lopez-Yanez
Backing Vocals: Emilia Lopez-Yanez, Rhea Sarmah, One Little Finger Group, Izzy (UK), Chernivtsi Music School, Ukraine, Ruth Weber Choir
Piano: Sophia Agranovich 
Sitar: Subhas Bose
Keyboard: Netailal Chakrabarty
Sax: Suzanne Grzanna
Piano: Charu Suri
Electric Guitar: George Varghese
Acoustic Guitar: Kevin Mackie, Tom McCaffrey
 
Choir:
The Ruth Weber Choir
Directed by Ruth Weber
Choir Words by Ruth Weber
 
Sopranos: 
Jan Baer, Kay Guy, Chioma Iheme, Jennifer Kennedy, Emily McCaslin, Rhea Sarmah, Cynthia Soltero, Jacqueline Storc, Barbara Welsh-Osga
 
Altos:
Cheryl Houston, Cheryl Kleban, Elisabeth Lentulo, Julie Lorson
Mary Mussatti, Georgia Phipps, Gina Ruiz, Ariel Sanchez
 
Tenors:
Neil Baljon, Dave Dollins, Shawn Jerge, Edgardo Lopez-Yañez, William Olszanicky, Benjamin Peck, Bill Schwartz, Andrew Sweet
 
Basses:
Robert Brooks, Brian Castle, Paul L. Gerard, Henrik Jonson, Paul Lorson, Stephen A. Markowitz, Dirk Reschly, Jon Wilder
 
Children backing vocals (Ruth Weber Choir):
Patience Crawford, Kendall De Los Reyes, Vedant Iyer, Emma Mitchell, Kate Moyer, Nora Moyer
 
Children backing Vocals (Children from Ukraine): Kamila Pogurska, Polina Fedyshyn; Chernivtsi Music School, Chernivtsi, Ukraine; Special Thanks to Vocal Teacher Nataliya Matsei.
 
Music Arranger: Rupam Sarmah 
 
Recording Engineer(s): Rupam Sarmah, Siddheswar Banerjee (Studio Acoustica, India), 
Mykhailo Fedyshyn (Studio Bukmusic, Ukraine), Cedrick Courtois (Studio West); Sophia's Piano (Recorded by Bill Walendzinski) 
 
Mixer(s): Brian Sargent, Rupam Sarmah
Mastering Engineer: Rupam Sarmah
 
ISRC#: US-GUA-22-00902

Producer(s): Rupam Sarmah, Kevin Mackie
Assistant Producer(s): Steve Elci, Brian Sargent 
Mixer(s): Brian Sargent, Rupam Sarmah
Mastering Engineer: Rupam Sarmah 

Special Thanks to: Jeffery & Sandy Brown, Cindy Paulos, Dana Cohenour, Paul Avgerinos, Dave Tusia, Natalie Jean, Rhea Sarmah, 
Anne Leighton, Prerona Special needs school, Rajamaidam Kalyan Sangha School (Jorhat), Jonathan Sprout, Sophia Agranovich, Donna Scott,
Ritam Sarmah, Nick Scurr, Cynthia Haring, Katia Valdeos, Eileen Sherman, Sofja Berezina (Ukraine), Elena Ermolenko (Ukraine), 
Nino Vasilchenko (Ukraine), Nataliya Macei (Ukraine), Olga Maksimenko (Ukraine)

Website: 
www.OneLittleFinger.org


•

Arise Together

(FYC:

Children's Album

) – releasing on Sep 23
• Children of the World (FYC:

Global Performance

– Children from Ukraine & around the world)