We have been actively working on Media, Education, and Engineering research projects over the years:
• MUSIC THERAPY, AI, AND NEUROSCIENCE: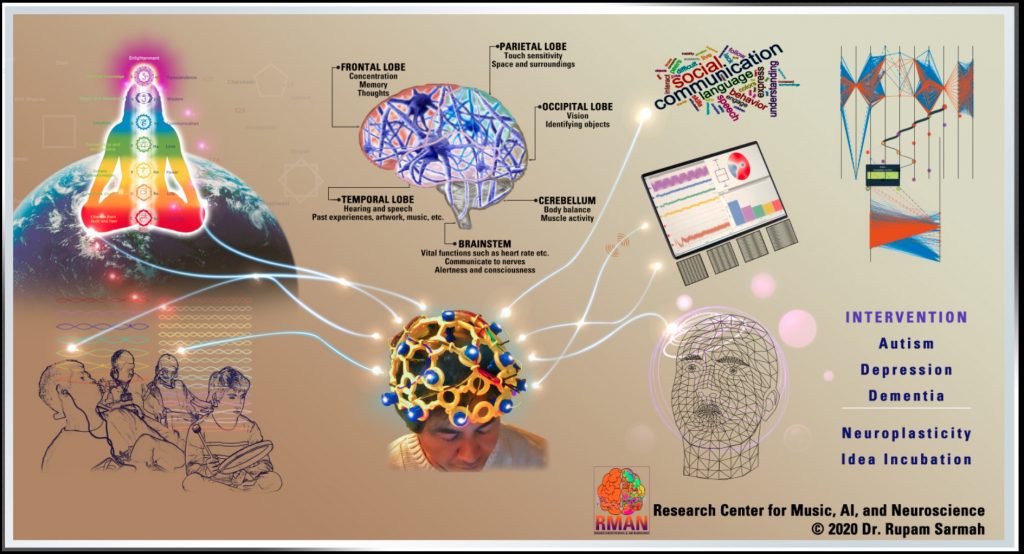 Purchase one of our products – music albums and films. All proceeds go to One Little Finger Global Foundation.
One Little Finger Film – available now on Amazon, Google, Apple!
One Little Finger – Music Album – available on Amazon Music, Google, Apple, Spotify, and others!
OMKARA (Music Album)    iTunes USA         iTunes India        Amazon
• ENGINEERING RESEARCH (Artificial Intelligence and Improving Human Conditions)
15% of the world population has some form of disability. 1 in 50 children is autistic in the United States. We are all likely to be disabled sooner or later as we age. This is part of the human life cycle.
ASD (Autism Spectrum Disorder) affects 1% of the world population and over 3.5 million individuals in the U.S. increased by 10% to 17% in recent years. (CDC, 2014). People with autism have difficulties with social interaction, problems with verbal and nonverbal communication, repetitive behaviors, or obsessive interests. (Intl. Center for Autism Research)
The total U.S. economic burden of ASD was estimated to be $268 billion in 2015. The burden is projected to nearly double to $461 billion by 2025. The U.S. cost of autism over the lifespan is about $2.4 million for a person with an intellectual disability and $1.4 million for a person without an intellectual disability. (Autism Speaks Science & Advocacy)
We are developing Assistive Technologies and AI-related Products to provide solutions to problems improving human conditions! We will update as our research continues…